One of my biggest callings in life is to take it to "the man", and there is no bigger or annoying man out there than Comcast.
I recently highlighted how to avoid Comcast's modem rental fee and then how to replace Comcast's modem with your own. Here's another way to avoid their excessively overpriced fees.
If you have a child who is eligible for a free or reduced lunch program at school, you can get discounted Internet service ($9.95 per month) from Comcast, along with a discounted netbook for $149.99 through a program called "Internet Essentials".
In order for a household to be eligible for Internet Essentials, it must meet each of the four following criteria:
Is located where Comcast offers Internet service
Has at least one child receiving free or reduced price school lunches through the National School Lunch Program (Comcast asks for documentation on this)
Has not subscribed to Comcast Internet service within the last 90 days
Does not have an overdue Comcast bill or un-returned equipment
So, if you meet the above criteria, $9.95 per month Internet is yours for the taking. If you weren't aware of the free or reduced lunch program, the reduced (and hence, the discounted internet service) are highlighted via this income eligibility chart: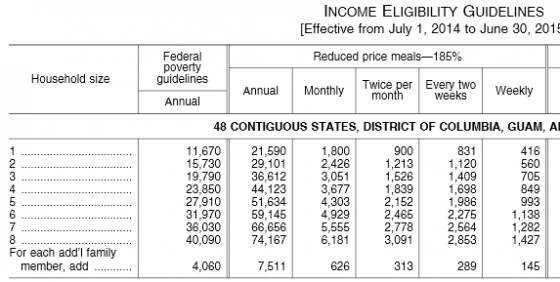 A family of 3 is eligible at an income below $36,612 and a family of four at an income below $44,123.
Just don't expect Comcast to crank up the speeds for you though. According to the program FAQ's:
"Internet Essentials provides home Internet service with download speeds of up to 5 Mbps and upload speeds of up to 1Mbps."
Their slowest internet speeds at a price that likely is still above their cost to give you service while they relentlessly try to sell low income households (with kids) overpriced cable and digital voice service? Not to mention, the program was required by the FCC as part of their NBC Universal agreement. Mashable explains,
"While this project seems like a goodwill initiative on part of the giant communications provider, it is actually a by-product of the Comcast-NBC merger, in which the company agreed to "increase broadband deployment in low income households" as one of a number of conditions to the acquisition."
If you're elderly, single, or childless and low income – sorry.
You didn't think Comcast would actually give something away for the greater good, did you?
If you meet the criteria, minus the 90 day eligibility requirement, do yourself a favor and cancel your Comcast internet service today so that you can get discounted service 90 days from now.
Related Posts: