Republic Wireless has long had one of the cheapest data plans on the market and has been a true disrupter in the mobile plan space.
They've changed their plans and pricing over the years a few times, but their $15 for unlimited call, text, and wifi data plan is still the best value priced plan around. High-speed mobile data add-ons are also reasonably priced (with no overage fees), starting at just +$5 for 1 GB.
Until this point, one of the biggest barriers for people to make the move to Republic was always the fact that you had to purchase one of their Android devices directly from them, and the selection was very limited (plus, high-end smartphones are not cheap).
That's no longer the case.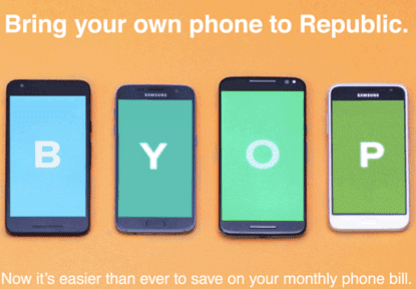 Republic Wireless has opened up the long-requested feature ability for you to bring your own phone to their prepaid plans. You simply need to:
Check your phone's eligibility (see list below)
Install the Republic Wireless app on your phone
Order the Republic Wireless SIM card (costs just $5)
Activate your phone
Republic Wireless Bring your Own Phone Model Eligibility:
With this initial rollout, eligible phones must be unlocked, have Android 6.0 Marshmallow, and be one of the following models:
Huawei Ascend 5W
Moto G (4th Gen.)
Moto G PLAY (4th Gen.)
Moto G PLUS (4th Gen.)
Moto X Pure Edition
Moto Z
Moto Z Play
Nexus 5X by LG
Nexus 6 by Motorola
Nexus 6P by Huawei
Pixel by Google
Pixel XL by Google
Samsung Galaxy J3
Samsung Galaxy S6
Samsung Galaxy S7
Samsung Galaxy S7 edge
These are all phones that Republic Wireless sells directly as well, and at fairly good prices, considering that there are no overpriced monthly contracts to subsidize the cost. For example, the Samsung Galaxy J3 and Moto G4 are both under $200 each.
With bring-your-own-phone, these phones can now be purchased anywhere. The latest version of Republic Wireless has them running on T-Mobile's network (Republic is a T-Mobile and Sprint MVNO).
Republic Wireless Plan Options:
Once you've activated your phone, Republic has a number of very competitively priced plans plans, including:
$15/month: unlimited talk, text, wifi data
$20/month: unlimited talk, text, wifi data, 1 GB cell data
$30/month: unlimited talk, text, wifi data, 2 GB cell data
$45/month: unlimited talk, text, wifi data, 4 GB cell data
$60/month: unlimited talk, text, wifi data, 6 GB cell data
You can switch in and out of plans whenever you'd like, since there are no contracts.
Republic Wireless also has a risk-free, 14-day money-back guarantee, and with no contracts, there is really nothing to lose if you want to check them out and save money on your mobile plan.
Related Posts: