I had another full year of using the Blue Cash Preferred® Card from American Express as my primary card of choice for supermarket purchases. In my first full year of usage, I was able to achieve the maximum 6% cash back rewards. Could I duplicate this feat in year two?
The results are in, and since I've hyped this card a lot in the past, I wanted to share them with you.
It was another successful year of getting the maximum 6% cash back reward on my largest expense category – groceries.
In reviewing my year end spend analysis within my account, I was able to isolate that I spent $6,100 on supermarket (Trader Joe's, Whole Foods, Kroger, and Meijer) purchases. My wife and I spend less than the average 2-person household on grocery items, for comparison. If you're in a one-person household, I provide an analysis later in this post on whether this card will pay off for you.
The Blue Preferred Card caps your 6% cash back on the supermarket category at $6,000 in spend ($360 cash back). Every dollar spent beyond that threshold receives 1% cash back.
Here's how my monthly cash back earnings charted out for me over the course of the year: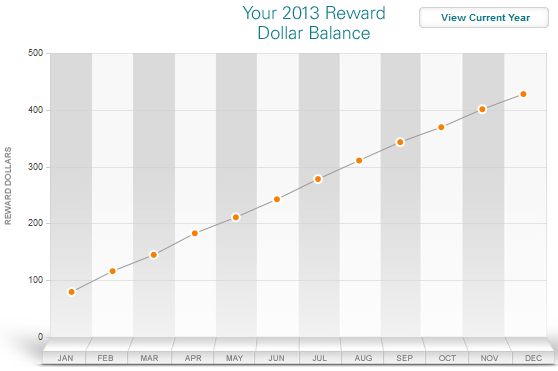 I'm nothing, if not consistent, I suppose.
This screenshot, includes non-supermarket purchases as well. Outside of the 6% cash back at US supermarkets, this card also has 3% cash back at US gas stations, 3% at select US department stores, and 1% cash back on other purchases. So some of that (although not too much) is in the chart as well.

You can find out more about this card and APPLY HERE.
Updated Perks for New Cardmembers
Outside of the hefty ongoing cash back rewards in categories that don't change, the Blue Cash Preferred Card also has an updated perk for new cardholders. You can get $150 back after you spend $1,000 on purchases on your new Card in your first 3 months. You will receive $150 back in the form of a statement credit.
Does the Blue Cash Preferred Card Make Sense for you?
It is worth noting that this card has a $75 annual fee.
Because of that, the Blue Cash Preferred card might not make the most sense for 1-person households that don't spend nearly as much on groceries as 2+ member households do. If that more accurately describes your household, the Blue Cash Preferred Card has a sister card with no annual fee (and lower cash back rewards) – the Blue Cash Everyday® Card.
Last year, I did a Blue Preferred vs. Blue Everyday cash back comparison to a typical common no-annual-fee/1% cash back card on $6,000 in supermarket purchases. Here is what I found:
Blue Preferred:
year 1: $360 cash back ($6,000 @ 6%) + $150 bonus – $75 annual fee = $435
subsequent years: $360 cash back – $75 annual fee = $285
Blue Everyday:
year 1: $180 cash back ($6,000 @ 3%) + $100 bonus = $280
subsequent years: $180 cash back = $180
1% Cash Back card:
year 1: $60 cash back ($6,000 @ 1%) = $60
subsequent years: $60 cash back = $60
In this scenario, the Blue Cash Everyday Card triples and the Blue Cash Preferred Card more than quadruples the cash back on supermarket purchases versus a 1% card, even after the annual fee is factored in. If you make department store or gas station purchases, the comparative cash back rewards could be even higher.

If you don't have either card, and you responsibly pay off your full credit card balances each month, what are you waiting for?
Related Posts:
Disclosure: This content is not provided or commissioned by American Express. Any opinions, analyses, reviews or evaluations provided here are mine alone, and have not been reviewed, approved or otherwise endorsed by American Express. This site may be compensated through Advertiser affiliate programs. I am legitimately an American Express cardholder, as highlighted in this post.