I'm starting to think a lot more categorically about how I use my credit cards in order to max out on cash back rewards for every type of purchase I make.
After looking at my year-to-date breakdown recently, it really hit me that a full one-third of my annual expenses are from groceries. And up until then, I had only been earning 1% cash back on those purchases.
I thought I might just be able to do better than that. So I went searching for the best cash back rewards card for grocery purchases. And all of my research brought me back to the Blue Cash Preferred® Card from American Express.
Cash Back Rewards on Blue Cash Preferred
As a cash back card, the Blue Cash Preferred Card is pretty outstanding.
My favorite perk is that it offers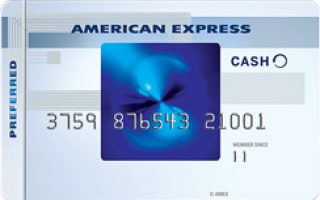 6% cash back at US supermarkets, up to $6,000 per year in purchases. If that isn't enough, it also offers3% cash back at US gas stations stations and select US department stores. And it also offers 1% cash back on other purchases.

Cash back is received in the form of Reward Dollars that can be redeemed as a statement credit. And cash back is simple and straightforward: No rotating reward categories. No enrollment required.
The cash back rewards, on their own, make the card worth it, but there is also a promotion for new card members to get $150 back after you spend $1,000 on purchases on your new card in your first 3 months. You will receive $150 back in the form of a statement credit.
There is an annual fee of $75 for the card.
Is the Blue Cash Preferred Card Worth its Annual Fee? Let's Crunch the Numbers

I used to be very against annual fees, but 6% on a category I spend so much of my budget on is very convincing. With the card's annual fee of $75, does it pay off? Let's crunch the numbers to find out. According to the U.S. Bureau of Labor Statistics, the average American spent $3,624 on groceries over the course of a year. A couple would average approximately twice that, or $7,248.
At 6% cash back on those purchases (up to $6k), a single person would theoretically get $217 cash back from grocery purchases. An average couple would theoretically get $372 back.
Had those purchases been made with a 1% cash back card, the result would be $36 per person with that card.
When you subtract the $75 annual fee, you still end up with a net cash back of $142 per person (vs. $36 with a 1% card) or $297 per couple (vs. $72 with a 1% card).
I'm willing to pay $75 to get $297 cash back vs. only $72 cash back.
If you want to compare the cards rewards to others, find out what your previous year's grocery expenses were, multiply that by 0.06 and subtract $75 to get the net cash back on the card, to see if the Blue Preferred card outdoes your or any other card rewards for grocery purchases.
What Supermarkets Get 6% Cash Back with the Blue Cash Preferred American Express?
Your mileage may vary, but the card has given me 6% cash back at each of the grocery stores I shop at: Trader Joe's, Whole Foods, Meijer, and Kroger.
Is it the Best Grocery Rewards card? Comparison vs. the Blue Cash Everyday® Card from American Express
How would the results of the card fare against another grocery rewards card without an annual fee? The best I've seen in the category is actually the sister card of this one – the Blue Cash Everyday® Card from American Express (check out my review). That card offers 3% cash back on US supermarket purchases, 2% on US gas stations & select US department stores, and 1% on other purchases – without no annual fee.
With the Everyday card, an average individual would get back $108 (vs. $142 for the Preferred Blue), and a couple would get back $217 (vs. $297 for the Preferred Blue).
Additionally, the Preferred version offers 3% cash back at select gas stations and department stores vs. 2% for the Everyday.
Then there's the $150 sign-up bonus vs. $100.
If your annual grocery purchases are in line with the averages I've highlighted here, the Blue Cash Preferred Card from American Express will result in the most net cash back, despite the $75 annual fee. I've signed up.
UPDATE: My first year of using the Blue Cash Preferred resulted in $385 cash back!
Disclosure: This content is not provided or commissioned by American Express. Any opinions, analyses, reviews or evaluations provided here are mine alone, and have not been reviewed, approved or otherwise endorsed by American Express. This site may be compensated through Advertiser affiliate programs. I am an American Express cardholder, as highlighted in this post.