Home » Invest, Stocks
Zecco & TradeKing are Merging
Two of the lowest cost (and my favorite) online brokers, Zecco and TradeKing, have officially announced a merger.
I have had a non-retirement account with Zecco and a Traditional IRA and Roth IRA with TradeKing for a few years, ironically, and have frequently mentioned both here.
At first I was surprised at the news, but I really shouldn't have been surprised at all. The merger makes a lot of sense for the two companies – they offered identical prices for trades – $4.95 per stock or options trade and $9.95/$10 for mutual funds, both were strictly online brokers, and they are up against larger, well-funded, formidable competitors. Heck, the CEO's of each respective company first met in middle school and then worked together at a prior employer, so perhaps it was destiny that they join forces again.
I don't see any downsides to the merger just yet. Online discount brokers compete on price, service, features, and offerings. In this case, they have the same trading prices (and have confirmed they won't change), both have good service and features, and the investment offerings should only expand with a merger.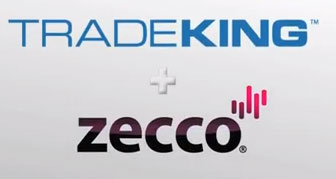 I do have three questions that have not yet been answered through their merger FAQ's yet:
Will the merged company adopt Zecco or TradeKing's annual IRA fee? My IRA is with TradeKing because they don't charge a fee, while Zecco charges a $30 fee. I hope they opt for TradeKing's fee structure.
Which interface will they adopt? Both are good, but I prefer Zecco's a bit more and the Zaptrade tool is pretty awesome.
Which customer service team do they model? TradeKing has been ranked #1 in customer service for three years in a row in SmartMoney magazine's broker rankings (2010, 2011, 2012). My experiences with Zecco customer service have been great, but with TradeKing's service reputation, it seems natural that they might adopt the TradeKing model.
Even though the merger has not been officially approved by regulators yet, it seems likely to go through as the combined company won't have a new-found dominant market share in the brokerage industry. Assuming approval, I have a short wish list for the new company, which would benefit all users:
It would be great to see Zecco/TradeKing start to offer free ETF trading as Fidelity, Schwab, Vanguard, and others have started doing. Adding to ETF positions at $4.95 per trade is simply not cost effective. If you want to be a one-stop shop for investors, you really don't have a choice.
Adopt the TradeKing $0 IRA fee and don't institute inactivity fees.
Get rid of any account closing fees.
Can you tell I don't like fees?
For the time being, it is business as usual for both companies.
What do you think about the Zecco and TradeKing merger, and what would you like to see from the new company in fees, features, service, etc.