Home » IRA's, Retire, Retirement Planning
myRA Retirement Plan Details: Everything you Need to Know
In the most recent State of the Union, President Obama mentioned a new retirement plan, called myRA (short for "My Retirement Account"). Awww… isn't that a cute little name for a retirement plan? Who's a good RA?
This country is heading for a massive retirement crisis that could trigger a zombie apocalypse – so anything to help ward off the zombies is a welcome development. Look at some of these facts:
Fewer than half of private sector workers are enrolled in a 401K plan and many don't even have the option to enroll.
75% of those nearing retirement (age 50-64), have less than $30,000 in their retirement accounts.
Nearly half of 401K accounts are cashed out when workers change jobs.
The retirement deficit between what Americans have actually saved for retirement and what they should have saved for retirement is already $6.6 trillion!
The details on the myRA plan may seem to be a little on the thin side at this point – with the only official documentation being a myRA fact sheet press release. However, there's really not much to the plan, as you'll see…
What is myRA?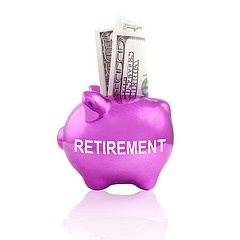 To summarize myRA, it's basically a post-tax retirement account (similar to a Roth IRA) that invests in the Thrift Savings Plan (TSP) Government Securities Investment Fund (eligible to federal employees) – aka the "G Fund". Investment returns in the G Fund have averaged 3.61% over the last 10 years.
Principal protection is part of the pitch – apparently the account balance will never go down in value. The security in the account, like all savings bonds, will be backed by the U.S. government.
The goal of the myRA plan is to make saving for retirement more accessible to those who don't have access to a 401K. However, just about anyone can take part (your income must be below $191,000).
The plan will be piloted this year, with the plan for a broader release at the end of the year.
myRA Benefits:
There are some good things here:
Fees: no account management, maintenance, or other fees.
Easy to contribute: initial investments could be as low as $25 and contributions that are as low as $5 could be made through automatic payroll deductions.
Tax-advantaged: you put in after tax dollars (like a Roth IRA). Retirement withdrawals would be tax-free.
Principal protection: how many who save money let their money just sit there and erode with inflation because they are scared to invest or don't know how to? With myRA, the funds are automatically invested in the bond funds – there's no thought involved – and no risk to losing money, as the investment is government backed.
Portability: your account can travel with you from one employer to another and you can roll it in to a private IRA, at a later time, if you'd like.
Ability to Withdraw: As with a Roth IRA, contributed funds can be withdrawn at any time (I suppose this could be viewed as a bad thing too).
myRA Downsides:
There are a few things that are limiting, at best, with the myRA:
Contribution cap: participants could save up to $15,000, or for a maximum of 30 years. If the goal is to make retirement more accessible to everyone, why cap savings at $15k?
Employer-driven: thus far, it looks like this is still an employer-driven account (meaning an employer has to sign up and offer it to its employees) that is not mandatory. This may do very little to address the 50% with no 401K problem highlighted earlier, if employer's have the option. Why not offer this plan to everyone without any time to an employer?
Limiting Returns: investors who are more comfortable with risk (and if you're in Gen X or Y, you should fall in to this category) could achieve significantly higher returns by investing in the broader market, versus myRA.
The Verdict:
The concept of myRA is exciting – a new retirement account that offers principal protection and no fees. Basically serving as a complement to Social Security and 401K/IRA funds, all while comfortably outpacing inflation.
So why the F does the treasury want to limit a good thing to $15k in savings and make it employer-driven? It's almost as if they are looking at the account as a bridge to bigger/better savings (which, as a country, we've shown we can't do). What happens when people hit the very low $15k bar? They move over to a Roth where they lose all their money in risky investments and give up on retirement saving altogether?
The conspiracy theorist in me is screaming that financial industry interests were too involved in this one and their concerns about too much money leaving their accounts ruined what could have been a great thing.
Remove the lifetime contribution cap and allow anyone to create an account at any time online – then we're talking. The goal here should not be a one-stop retirement solution – but a rock-solid piece to the retirement puzzle would be nice… lets hope some changes are made.
myRA Discussion:
What's your take on the myRA?
What changes would you like to see made to the plan, as it has been highlighted?
Will you contribute to the plan?
Would you like to continue contributing to the plan after $15k?
Related Posts: