Home » Invest, Market Terminology, Wall Street News
Stock Market Crash of May 6 2010 Highlights a Broken Market
There are days that question any remaining faith that you have in stock market investing. May 6, 2010 (today for those keeping score) is one of those days. Two odd happenings occurred on 'the Street' today that I found very disturbing.
Bizarro Market, Part 1, Stock Indexes Collapse in Minutes as the Computers Take Over
In a matter of minutes, the Dow Jones Average plummeted 1,000 points, nearly 10% of it's total value. Here's a look at the Dow chart (the drop happened at about 2:48 PM EST):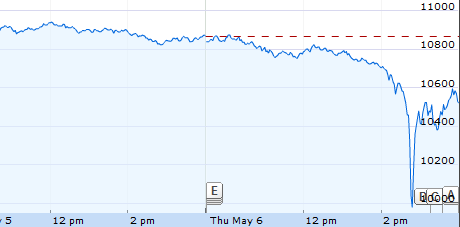 We'll talk about the speculation as to why it happened, but first, watch it happen live on CNBC as the talking heads start to panic:
If I understand what I've been reading, this crash was caused not by fear of the debt crisis in Greece or other legit economic indicators, rather, it was caused by algorithmic trades that automatically kicked in when the market index dropped below it's 100-day and 200-day moving averages.
For anyone who was 100% invested into one of the major stock indexes today, at one point you lost 10% of your net worth, your life savings, because investors had passive, indiscriminate computerized trades ready to go and execute based on an algorithm.
Is that less than absolutely frightening for anyone with money in the stock market? Yes, the market did rebound and ended the day down a mere 347 points, but there were undoubtedly many who bailed on the collapse much lower than that.
Bizarro Market, Part 2, Proctor & Gamble
The other really bizarre thing that happened today was the shares of blue-chipper defensive buy Proctor Gamble (PG), dropping over $22 (or 37%) almost instantly. Nobody really knows what happened, but it has been speculated that someone entered a trade that was an error. Too many zeros, if you will. Instead of 1,600 shares, they accidentally tried to sell 16 million or so. Oops!
Really?
Where do we go from here?
I know that in order to beat inflation I need to invest my money in some form of equity. But days like these really question my faith towards the stock market and what media and technology has turned it into. I don't want my life savings, years of determined hard work to vanish instantly due to media panic or computer generated algorithmic trades.
Do you?
I'm off to look into that EverBank Diversified Metals CD a little more closely.
What's your taken on the market? Is it completely broken? Where are you putting your money?
Related Posts: