Home » Budgeting, Live, Technology
Live Sporting Events Vs. HDTV: Which do you Prefer?
Has big screen HDTV changed the game for you?
One of the biggest selling points of going to live sporting events was the extreme visual upgrade of seeing a game in person. It used to be that you had to configure bunny ears just right to even watch a game at home, and even then the clarity was such that you couldn't see players numbers or much else. Sure, it cost money to go to the games, but the experience of being there and seeing everything in crystal clear view was a huge advantage over the poor at-home TV watching experience.
Not anymore.
1080p crystal clear HDTV has completely eliminated the visual advantage to being at a game. In fact, you're almost always going to get a better seat, plus instant-replay, and the ability to flip between two good games if you just stay at home these days.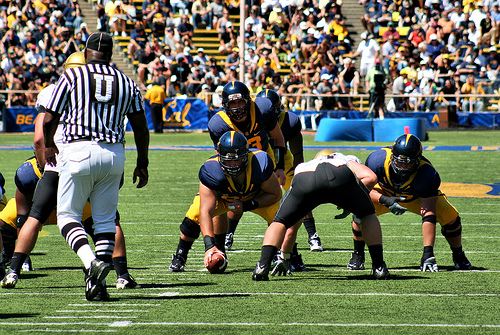 Staying at Home is the Frugal Choice
Financially, there is little comparison. If you buy season tickets for just about any major college or professional team, the cost of the tickets for just one seat could easily outweigh the cost of your cable subscription for the entire year. Buy two seats and you could throw in a nice HDTV as well.
If you stay home you don't have to pay for transportation to and from the game, parking, and the food is much cheaper (and healthier if you choose).
Other significant benefits include being able to actually have a beer during the game (alcohol isn't sold at most college events), you can avoid poor weather conditions, and you don't waste all of the time traveling to and from the game.
However…
The Intangible's
I grew up going to college football games with season tickets. I became conditioned to it. For me, there's just  something about being there. Whether it's the atmosphere, being around other devoted fans like you, people watching, feeling like you can impact the game by being loud, or just saying that you were there for that big game – there's a certain intangible quality to being out at an event vs. getting the filtered network view of that same game.
Is it a Generational Thing?
I can see how this site's demographic might have a different experience altogether. I've been going to football games since I was a child and have had season's tickets for the last 15 years or so. I might be an outlier. Outside of drunk students, I don't see too many young people at college football games these days. Generation Y grew up with cable in the house and many of us have had HDTV's for years now. I just don't know that going to a live game means as much to our generation or subsequent ones as it does to older ones, and I wonder if attendance to sporting events is going to significantly decline over the years as a result?
So I have a few questions that I'm really interested to hear your responses on:
Have you given up seasons tickets for a favorite team for the comfort of watching at home? Do you think you'd go back?
All things considered, would you prefer to go to a game or watch it at home on the HDTV? Why?
Loading ...
Related Posts: