Home » Budgeting, Technology
The Cheapest Data Plans for Mobile Phones
Mobile Data Plans Vary Widely in Price & Usage Limits
We've already entered the era of smartphone – even though some of us may choose to stay behind. 😉
With the smartphone emergence and the decline in cellular usage for actually calling people, the new challenge from a financial standpoint is to figure out how you can get the cheapest mobile data plan – without any other add-ons. Otherwise, the lifetime cost of a smartphone can really kill your savings.
I'm going to highlight the big ones here, but you can also check out this list of prepaid MVNO's. A few of them do offer unlimited mobile data plans – at much cheaper levels than the big 4 national carriers.
Note that just about everyone throttles data once you hit a certain threshold and there are very few truly "unlimited" plans out there.
Unlimited Mobile Data Plans without Talk & Text Add-Ons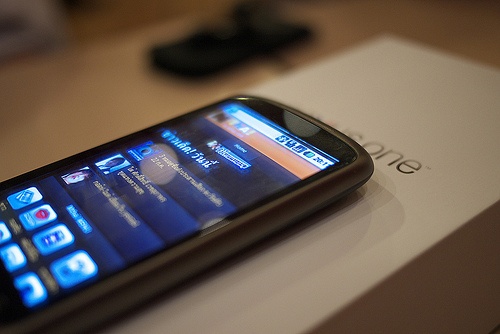 And that's the challenge – finding an unlimited data plan with no other services that you are paying extra for. With some of the unique low cost mobile VOIP and other free options available, a phone with a data plan can, in effect, serve as a phone with a talk plan. And if you're using it for that purpose, you'll rack up some bandwidth.
Who wants to constantly worry about how much in charges they are racking up for using the web as they want to? To help guide you, here's a run-down of all the national mobile phone providers who offer data plans. As you'll see, I highly value unlimited data versus pay-by-usage.
Republic Wireless:
The clear #1 in this space now. A startup from Bandwidth.com, Republic Wireless charges $10 per month for unlimited talk, text, and wifi data ($5 per month if you only want wifi-only on everything). You then purchase the amount of 3G or 4G cell data you think you need per month and are actually refunded for unused data!
If no wifi is available, Republic kicks you over to Sprint's network.
If you want a data plan that is supremely cheap, yet fits your needs, this is the one.
No Contract: $10+/month, includes unlimited talk, text, and wifi data. Uses Sprint's 3G/4G network for cell data at extra charge.
Virgin Mobile Beyond Talk:
I reviewed Virgin Mobile Beyond Talk earlier this year, and the review wasn't the most favorable because I was comparing the total cost of the plan for those who like to use their phones primarily for texting and calling to other low cost cell providers. But when you look at it from a cost of unlimited data perspective, it actually turns out to be an exceptional bargain. Beyond Talk runs off Sprint's 3G network and offers an unlimited data and text plan plus 300 monthly minutes for just $35/month. Here's a run-down.
No Contract: $35/month, includes unlimited data, text, and 300 call-time minutes on 3G/4G.
They have a few other plans as well, but this is the cheapest one that includes data. Throttling begins at 2.5GB of data usage.
Virgin Mobile is actually a Sprint subsidiary, and their offerings here for low cost data plans are superior to Sprint, and another Sprint subsidiary highlighted in this post, Boost Mobile. Check out my Virgin Mobile Beyond Talk review.
Straight Talk:
Straight Talk is yet another Tracfone subsidiary (like Net10). I just discovered Straight Talk recently, and they also offer an unlimited mobile plan. It looks like a great option, but appears to be inferior to the Virgin Mobile Beyond Talk plan because you get all the same offerings with a $10 higher price. However, if you use a ton of call minutes, this plan might come out ahead.
No Contract: $45/month, unlimited data, text, and talk. 3G availability varies by phone and location.
Throttling begins at 3 GB.
T-Mobile Data Plans:
T-Mobile recently started offering a cheap data plan that is prepaid. For $30 a month, you receive unlimited text, data (5GB up to 4G speeds), and 100 minutes. This is a great mobile plan for how most people are using their phone these days. Many have questioned the capabilities of T-Mobile's network, but you can't question the price and customer-focus of this plan.
They also have a few different options with unlimited data, called "Simply Prepaid":
$40 / month for unlimited data, talk and text + up to 1GB of 4G LTE
$50 / month for unlimited data, talk and text + up to 3GB of 4G LTE
$60 / month for unlimited data, talk and text + up to 5GB of 4G LTE
Note that after Virgin Mobile, Straight Talk, and T-Mobile, there is a huge drop off in value on other providers plans.
Metro PCS:
Metro PCS is not nationwide in coverage and does have roaming charges. But they do offer a $40/month plan for 1GB of 4G data (before throttling kicks in), text, and calling. With limited coverage and cheaper options available, it's not the plan I would recommend.
No Contract: $40/month, unlimited talk, text, 1 GB data w/roaming charges. Network is limited in coverage. 4G speeds.
Boost Mobile:
Boost mobile data plans are included as part of an unlimited talk, text, and data plan for $35/mo. You can't get just a data plan with Boost.
No Contract: $35/month, unlimited talk, text, data (1 GB before throttling), no roaming charges. 3G/4G available with some phones.
Sprint Data Plans
If you're looking for straight up cheap mobile data plan only, Sprint is not for you. They offer a plan with unlimited data, text, and phone, called Sprint Unlimited Data at $60. And unlike most mobile networks these days, you can still rack up roaming charges. 4G or not, Sprint needs to price competitively to what the market is demanding. Here's the breakdown:
2-year contract only: $60/month, includes unlimited data, text, and calling. Roaming charges applicable.
AT&T Data Plans:
Earlier this year, AT&T started an unfortunate trend (for the cost conscious) in the mobile data business of getting rid of unlimited data plans. Today, AT&T data plans range from $45/month for unlimited data (1 GB before throttling) + unlimited talk/text.
Verizon Data Plans:
Shortly after AT&T axed their unlimited data plan earlier in the year, Verizon followed suit. Verizon data plans are not cheap. Even the prepaid plans cost $45/month for just 500 MB of data.
Mobile Data Plan Discussion:
Are you using your phone for data only? Which plan do you use?
How much data are you using each month?
Related Posts: