Home » Food & Drink, Save Money, Summer of Saving
What are your Favorite "Go-To" Cheap Foods?
We've discussed how to lower the cost of food through cooking, a list of the best warehouse deals, and even the cost benefits of a vegetarian diet as part of the Summer of Saving.
So lets get down to the basics and create an awesome resource for everyone.
Lets create a list of favorite "go-to" cheap foods.
Whether it was sourced from your back yard, a farmer's market, ethnic market, a warehouse, or grocery store, it doesn't matter.
Lets just stick to basic items. We'll save meals and recipes for later this week.
So simply list out:
the food item
why it's one of your favorite cheap go-to foods
what it costs
where you get it (which could then result in others sharing where they got that item even cheaper)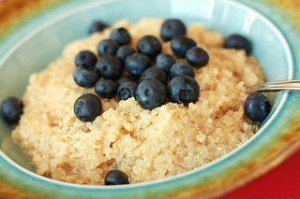 I'll get things started:
| Cheap Food: | Cost Per Unit: | Cost Per Serving: | Purchase From: | Why I Like It: |
| --- | --- | --- | --- | --- |
| Organic quinoa | $8.79/4 lb. bag | $0.21/one-fourth cup dry | Costco | 6g protein per serving. Well-balanced. Tastes great. Excellent base for many great vegetarian dishes. |
| Organic, free-range eggs | $2.99/dozen | $0.50/two eggs | Trader Joe's | I know there are cheaper eggs out there, but $0.50 for a healthy, nutrient-packed breakfast (and a little peace of mind) is a good deal in my book. |
| Canned black beans | $0.69/can, sold in 8-pack for $5.52 | $0.35/half can (can says 3.5 servings per can, but 2 seems more appropriate) | Costco | The "King of Beans", in my opinion. Excellent vegetarian/mexican food centerpiece ingredient. 14g protein per half can. At this price, it's hard to justify dried beans. |
| Cholula sauce | $7.89/24 oz. 2-pack | $0.05/1 TSP (although I use a lot more) | Costco | For what it adds to every meal you add it to (it will change your life), it's worth every penny. |
| Frozen Kale | $1.79/lb. | $0.36/two-thirds cup | Trader Joe's | Very healthy. Loaded with vitamins & calcium. Excellent addition to eggs, mexican, quinoa dishes, soups. |
| Peanut butter | $1.79/16 oz. jar | $0.13/2 Tbsp | Trader Joe's | High fiber, protein, healthy fats. And this product has only 1 ingredient - dry roasted peanuts (as all REAL peanut butter should). Smear it on an apple, and you have a breakfast. |
Your turn!
Related Posts: