Home » Home Buying, Home Ownership, Live
Box of Tricks: 1 Apartment, 24 Rooms, 344 Square Feet
I'm a huge fan of tiny homes, so you can imagine my excitement when I discovered an apartment that was renovated to include 24 different room configurations, all within 344 square feet! The New York Times dubbed the apartment the 'box of tricks'. Check out the pretty cool slideshow of photos from the apartment here.
Tiny House, Big Budget… For Now
Innovation comes with a steep price. The apartment, located in Hong Kong, was created by Gary Chang, founder of an architectural firm called Edge Design Institute. It was his 4th renovation that yielded the 'box of tricks', at a price of $218,000. His efforts were 'counter-frugal', at worst. Since it was a prototype, the costs were going to be high.
What I'm hoping is that the design principles he worked into his apartment are adopted at a wider scale, which would bring on economies of scale, and lower the price of renovation for dwellings like his (pictured below).With the world's population continuing to explode, the human race may not have any other choice.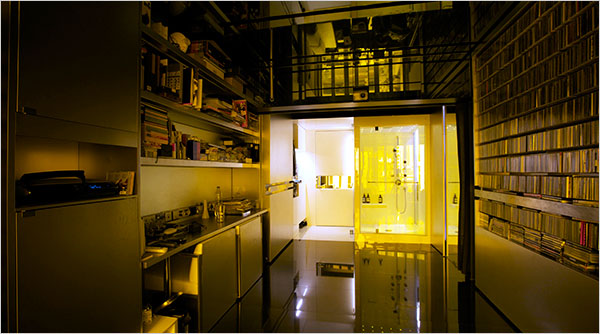 But Small Can be Cheap
A number of tiny home designs exist, and a house under 250 square feet can be built for well under $20,000, or even free if you're handy and resourceful enough. I interviewed tiny house pioneer, Jay Shafer, in the fall. Shafer lives in a 998 square foot house that he designed and built from scratch. Between appearances on Oprah, he travels the country with his house on a flatbed trailer, showing others the virtues of tiny home living.
There are a lot of Great Lessons we can Learn from the Box of Tricks & Tiny Homes
What I love the most about the 'box of tricks' and other tiny homes is that they force you to simplify and de-clutter your life. You simply cannot live in a 344 square foot or 998 square foot dwelling without having to make a number of tough decisions about what really matters in your life.
When you give up all that stuff, in order to make a home that small comfortable and livable, you are forced to really re-consider what you value in life. You are forced to give up stuff. You free yourself from being owned by your stuff. And that has to be incredibly liberating.
Without stuff and with a tiny dwelling and a tiny or non-existent mortgage, you can live big on the cheap.
I have made a lot of steps in this direction over the last few years, but I certainly have a long way to go.
Does this type of lifestyle appeal to you as well?
Tiny Home Discussion:
How small is your dwelling? How small do you think you could go?
What comforts have you given up in order to free yourself from stuff?
Related Posts: